The 4 Most Significant Strengths Today's Students Share,
The 3 Most Significant Strengths Today's Students Lack,
and The 2 Most Important Questions We Must Ask Ourselves as Teachers, to Increase Students' Self-Esteem
Author: Orly Katz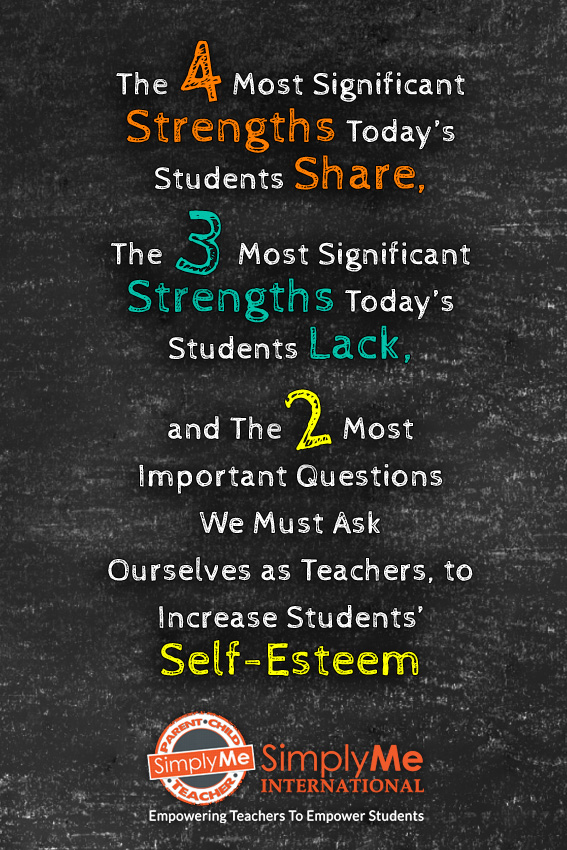 The 4 Most Significant Strengths Today's Students Share:
They are expressively and digitally creative. (They were born into it and it comes naturally to them.)
They scan and absorb information quickly.
They understand and enjoy the absurd.
They are curious about different cultures (they can reach the whole world at the click of a button and see what's happening on the other side of the globe).
So, as you can see, today's children share many strengths. On the other hand, there are strengths that I call "dormant strengths." These are strengths that have not been developed among our generation of children precisely because of the dominance of technology which has prevented them from developing other areas in their lives which they may be good at, but have not had the opportunity to develop.
The 3 Most Significant Strengths Today's Students Lack:
Interpersonal Communication Skills:
Today, there is less verbal communication between children and youth since they largely communicate via SMS and the computer. Children can pour their hearts out to someone on the computer, yet the next day they will cross to the other side of the road in order to avoid that same child... simply because they don't have the necessary skills to communicate face to face.
The Ability to Listen:
Nowadays, listening mainly takes place via screens. This is a different listening. Children have their own language, and in 10 minutes can write "How are you?" in 250 different ways. But that's not a listening skill ... it's visibility.
And the last thing: Leadership Skills, Faith, and Confidence in Themselves:
This is the most important strength that needs to be developed. Sometimes it is dormant because it is difficult to develop self-confidence when you are behind a screen all the time, rather than interacting face to face with other children in different situations.
2 Important Questions We Must Ask Ourselves as Teachers, to Increase Students' Self-Esteem
How do we identify individual strengths?
How can we stimulate and strengthen dormant strengths?
Taken from our accredited online course for teachers:
The Freedom to Be Me.
For more details about our Online Graduate Continuing Education Courses for Teachers click here.